 
Chess tactics for kids
Chess fans of all ages and levels delicious find this instructive book.
Calculate Delivery Cost
Secure payment with SSL Certificate
Shipping all over the world
30 day return
Continued Beating your dad chess.
Chess fans of all ages and levels delicious find this instructive book.
In a simple and easy to understand format, he explains how to confuse the opponent exploiting tactical issues. The illustrative positions, all taken from actual games, up 50 tactical tricks that teachers use to win their games.
To recognize tactical ideas is vital for success in chess. One of the fastest and most enjoyable ways to progress is to learn precisely these thematic maneuvers.
Beginners can benefit from a clear explanation of the basics, as to how to exploit a fork, a dunk or enfilade.
The highest level players can enjoy the many insidious tricks middlegame (some of them classified here for the first time), which can fall to the great masters.
Chess Tactics for children makes progress easy and fun, with useful explanations on how to address the chess games with confidence and succeed in them.
Grandmaster Murray Chandler was world runner cadet in 1976, ahead of Gari Kasparov, whom he defeated in their individual encounter (which makes even today is one of the few players in the world with a 100% score against Kasparov ...) .
He was a member of the England team that won three silver medals at the Olympics in the eighties, and acted as captain in 1994. He has been owner and editor of British Chess Magazine and author of several chess books success. His previous book, How to Win your dad chess has been one of the most popular books in recent years.
Data sheet
Language

Spanish

Editorial

La Casa del Ajedrez

Autor

Chandler, Murray

Format

17 x 23 cm.

Binding

Paperback

Pages

128

Edition

1ª 04 / 2013

ISBN

978-84-933841-6-6

EAN-13

9788493384166

Collections

... chess for children

Year of publication

2013
You might also like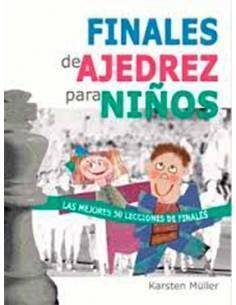 4 other products in the same category:
Customers who bought this product also bought: